Why Choose Aluminium Bi-Fold Doors For Your London Home?
Are you looking for a way to brighten up your London property? Why not consider one of our stunning aluminium bi-fold doors?
Aluminium bi-fold doors are the perfect way to connect your conservatory, orangery, home extension or any other external walled room with your outside space. Being constructed out of premium grade aluminium, you will benefit from slim sightlines. This will allow for stunning natural light to pour into your home, brightening up even the darkest of rooms.
What is great about having double glazed home improvements is that they can make small spaces look so much larger by framing your garden as a focal point for the room. These also work for commercial customers too.
If you would like more information about our beautiful aluminium bi-fold doors, then please get in contact with us here at The Wright Bi-Fold Company. We will gladly answer any questions you may have.

Are Aluminium Bi-Fold Doors Weatherproof?
By examining the design of one of our bi-folding doors, you may become concerned with whether your home or business will be protected from the infamous British weather. However, we as a company have already considered this and have made innovative tweaks that come as standard with each aluminium bi-fold door we install.
Between each floating mullion, we fit EPDM rubber gaskets as well as weather brushes to ensure greater weather protection. Because of this, your home will not be subject to water ingress, which can lead to condensation and water damage. Our standard threshold sits at 31mm, meaning your new aluminium bi-fold doors will function smoothly with no worry about water.
How Secure Are Your Aluminium Bi-Fold Doors?
Another major thing to consider when it comes to home improvements projects is whether your home or business will be safe and secure. We, as a company, want you to have peace of mind knowing that your London property is firmly protected against potential intruders.
Aluminium, by nature, is a robust material that can withstand any sudden impacts. It is often an excellent deterrent for burglars. To further enhance the security, we also fit multi-point locking mechanisms as standard ensuring that when fully locked these doors are firmly secured.
Better yet, we can install shoot-bolts above each mullion further enhancing the security performance of our aluminium bi-fold doors. You can rest easy knowing you, your family and your possessions are safe and secure from would-be intruders. Get in touch with us today for more information about the security features of our double glazed slide folding doors.
Can I Get Aluminium Bi-Fold Doors Installed For My Business in London?
Aluminium bi-fold doors are ideal for businesses such as restaurants, cafés and bars. In the warmer weather, they can be opened up so that customers can enjoy almost the full aperture of the installation. They will get fresh air as they enjoy the full scope of your structure. It doesn't matter whether they opt to sit inside or out, too; they will feel like they are benefitting from being outside.
We here at The Wright Bi-Fold Company install aluminium bi-folding doors for both residential and commercial customers. There is no project too big or too small for us, so don't hesitate to get in contact with us today!
Can I Get Corner Aluminium Bi-Fold Doors Fitted?
Most homes will be able to house and suit corner bi-fold doors. Available in a range of configurations they are ideal for fitting into most apertures. We will have to conduct an assessment to see whether this will be able to be installed.
This is a bespoke installation meaning that you will get the double glazed door of your dreams. You can decide whether your aluminium bi-fold doors open inwards or outwards and whether you will benefit from single or double door designs.
There is no need to worry about whether aluminium bi-fold doors will smoothly open. With a professional installation from the Wright Bi-Fold Company in London, you can rest assured that we will use stainless steel rollers that allow for consistent fluid motion.
You will be adding valuable market appeal to your property by installing thermally efficient double glazed aluminium bi-fold doors. A corner installation can also be incredibly appealing to those who want a more contemporary and stylish home.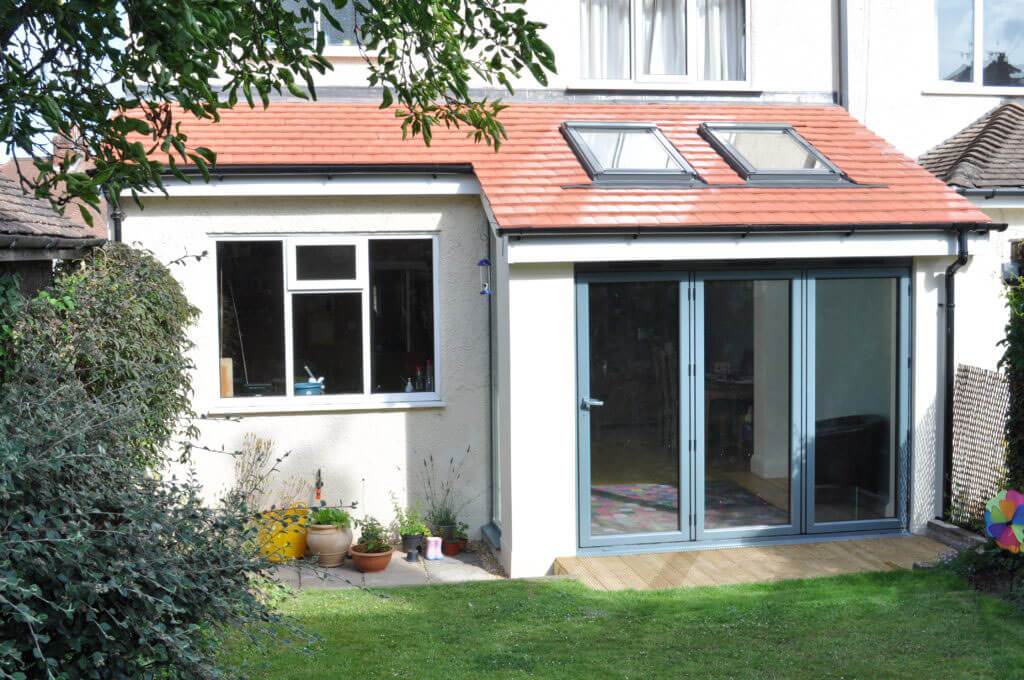 ---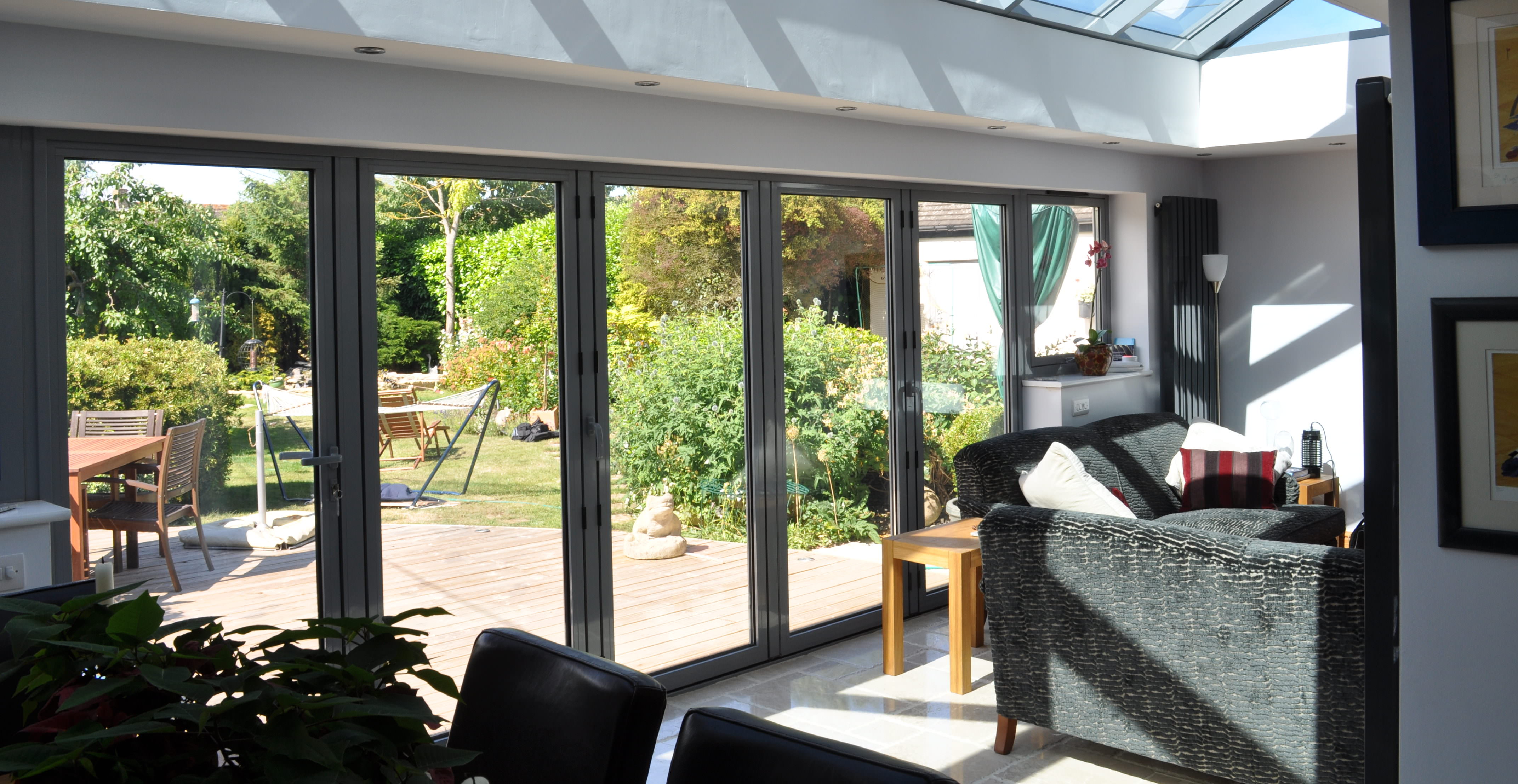 Are Aluminium Bi-Folding Doors Thermally Efficient?
As these doors are weatherproof, you will also be glad to know that they boast superior thermal performance. Homeowners that have these slide folding doors installed will benefit from a home that retains heat far better than it once did.
The specially designed thermally broken frame utilises small pockets that capture hot air. This, combined with our fantastic double glazing, means that our aluminium folding doors create a thermal barrier. This traps your heating in your home, meaning you feel the benefits much quicker when using energy.
Not only this, but that means that you won't need to have your heating on all the time to counteract the loss through insufficient double glazing. Feel warm, cosy and comfortable during the winter months with our outstanding aluminium bi-fold doors.
This does also have a great effect for the opposite way. You won't have to worry about the sun making your London property like a greenhouse. The thermal barrier effect traps the suns rays and stops the heat from penetrating through.
If you would like more information about how this is possible, please don't hesitate to get in contact with us today!
Will I Have To Maintain My New Bi-Fold Doors?
One of the many upsides that come with our aluminium bi-fold doors is the fact that they are incredibly low maintenance. Gone are the days when your doors would start to warp, rot, crack and twist when they are exposed to the rain. Water damage is a thing of the past.
As aluminium is a robust material, there is no need to repaint and sand down like you would a timber door. The colours will also stay for as long as the aluminium bi-fold doors perform. The only thing you will need to do it clean your doors from time to time. The dirt build-up is easily removed with a simple wipe from a damp cloth.
Not only this but the high-quality installations that we will provide will ensure that the rollers function smoothly, without needing to be replaced.

Can I Customise My Aluminium Bi-Fold Doors?
Yes! We, as a company, provide the full RAL range of colours so that you can have the bespoke look of your dreams for your aluminium bi-fold doors. Whether you're after a modern hue that will wow your visitors or a shade that seamlessly blends this installation into the rest of your exterior design.
Our colours will not fade, peel, crack or discolour. You will not have to keep getting out the paint buckets to keep your aluminium bi-fold doors looking good.
Aluminium Bi-Fold Door Prices in London
If you would like to get an aluminium bi-fold doors quote in London, try using our online design tool. Here you can input your design preferences to see how competitively priced our products are.
Alternatively, you can get in touch by filling out our online contact form. One of our friendly experts will gladly explain all you need to know about our aluminium bi-fold doors, from designs to prices.
We look forward to hearing from you very soon!
[/vc_column]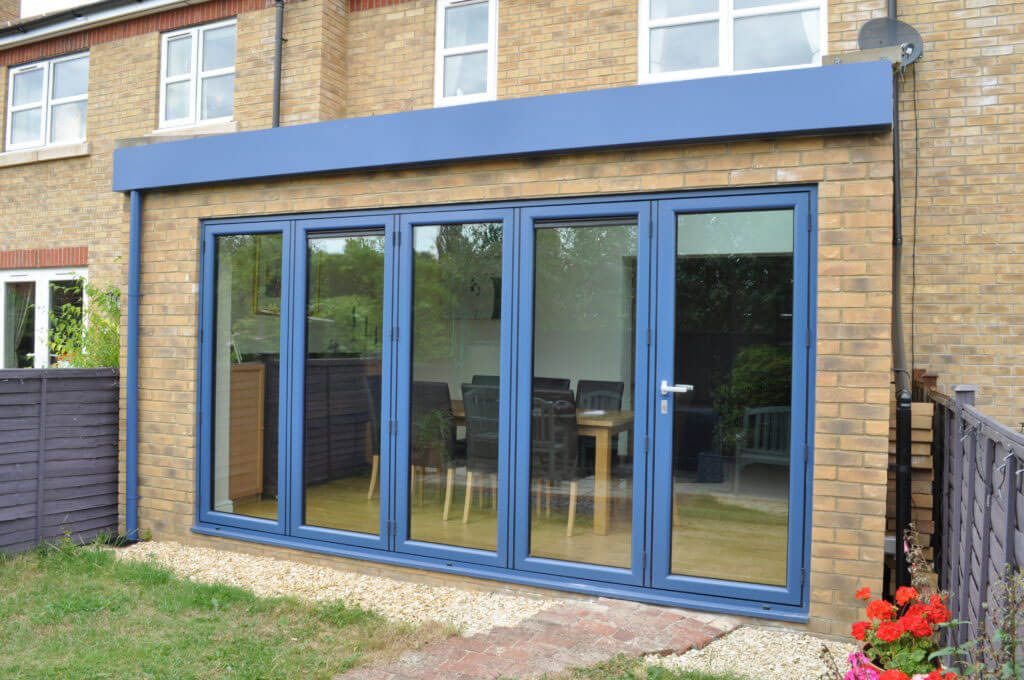 "Excellent workmanship and product. The glass to the door also changed easily as the picture we chose was different to what arrived."
- Customer in Brentford
"Excellent fitting and workmanship of new sash windows. Would recommend.``
- Customer in Sutton
"Very satisfied with service from start to finish, from initial quote to final installation."
- Customer in Surbiton
"Fantastic service, very impressed. The guys know their stuff, prompt, polite, clean, exceptional service. Great value for money. Very pleased."
- Customer in London
"Excellent company, honest, competitively priced and high standard workmanship and aftercare."
- Customer in Feltham