Aluminium Bi-Fold Doors for Stylish Croydon Home Improvements
Aluminium bi-fold doors are a superb choice for your Croydon home improvements. They will completely transform your property and the way that you use it, opening up whole new opportunities in your lifestyle.
These stunning sliding doors link your home and garden seamlessly, creating a super stylish entrance that unites your living space.
Here at Wright Bi-Folds Co, we specialise in supply and installation of the most incredible aluminium bi-fold doors. We are highly regarded throughout Croydon for our outstanding products, exceptional installations, and superb customer service.
We would like to introduce you to the features and benefits of our bi-fold doors, to give you inspiration for your Croydon home improvements.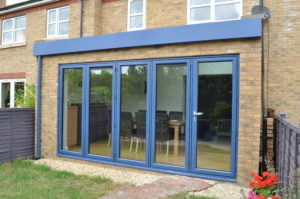 Impressive Beauty with Aluminium Bi-Fold Doors
For ultimate style, you cannot compete with our aluminium bi-fold doors. These stunning sliding doors have an ultra slim frame, thanks to the natural strength and rigidity of aluminium. This provides a beautiful finish to our doors, and helps to make the most of your views. 
When it comes to creating your aluminium doors, we work with you to create a unique and bespoke home improvement.
Your aluminium bi-fold doors will be perfectly matched to the available space. You can choose from a range of fold configurations to ensure that you have the opening that most suits you, both practically and stylistically.
In addition to this, our aluminium bi-fold doors can be finished in one of an amazing range of RAL colours.
You can opt for a tasteful shade to complement the traditional features of your property, or make a statement with a super bright colour that creates an eye-catching design.
We also offer a range of handles so that every detail of your aluminium bi-fold doors design is exactly the way you want it to be.
Whatever your preferences, our sliding doors can be customised to reflect your tastes and to enhance your beautiful Croydon home.
Super Security from Quality Aluminium Bi-Fold Doors in Croydon
Keeping your home protected against potential intruders is one of the central roles of any door you choose. With our aluminium bi-fold doors, you can count on superior security.
Each door has an almost indestructible profile, thanks to the inherent qualities of aluminium itself. In addition to this, we fit all of our sliding doors with state of the art, multipoint locking mechanisms.
This ensures that even the most determined potential intruders are unable to break into your home, and our doors are also in line with the Building Regulations security specifications.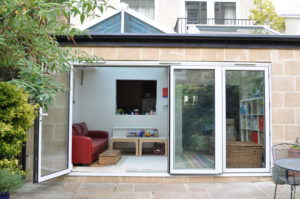 Impressive Thermal Performance from Our Aluminium Bi-Fold Doors
Keeping your home warm and protected from the elements is another requirement of your new double glazed doors in Croydon.
Our aluminium bi-fold doors are fitted with EDPM rubber gaskets and additional weather brushes to ensure that there will be no leaks or draughts in your property.
Even in torrential rain and gale force winds, our typical British winter storms, your home will be dry and cosy, and safe from the turbulent elements.
In addition to this, our aluminium bi-fold doors are fitted with the most outstanding thermal glazing as standard and they feature the latest innovations in energy efficient double glazing technology.
Your home will be kept warm and comfortable on even the coldest of days with our aluminium bi-fold doors. You could even find that your property's EPC rating is improved when you choose to install new double glazed doors.
Superb Accessibility with Aluminium Bi-Fold Doors in Croydon
Choosing Wright Bi-Fold Co for your aluminium bi-fold doors in Croydon will ensure that your home improvements meet your every need.
This even extends to accessibility. Easy access to the outdoors is important for any homeowner, and particularly so if you have young children, or perhaps are a wheelchair user or someone with mobility difficulties.
With our aluminium bi-fold doors, you will have an easy opening system and low thresholds, ensuring that your new doors are as accessible as possible.
Our aluminium doors have a precision engineered stainless steel roller ball opening mechanism, ensuring that you get a smooth gliding experience year after year.
Our standard threshold is a low 31mm, but for the very best accessibility available, we also offer an ultra low threshold of 15mm with ramps. When you choose aluminium bi-fold doors from us, you can count on every detail being exactly perfect.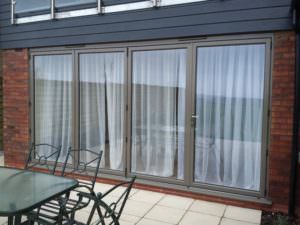 Aluminium Bi-Fold Doors PriceS Croydon
Our aluminium bi-fold doors prices in Croydon are exceptional, offering superb value for money. You can count on a luxury, high quality sliding door that is cost effective and will last for many years to come, making it a great investment.
Why not find out your personalised costs? We have an online door designer, where you can create your perfect aluminium bi-fold doors and get a tailored price. You can also contact us and our friendly team will help you find the perfect combination of style and budget for your home improvements.