Reinvigorate Your Putney Home with Aluminium Bi-Fold Doors
Aluminium bi-fold doors are a superb option for your Putney home improvements. They can be relied upon to completely reinvigorate your home, transforming the way you use it and giving you a stunning space to live in.
Here at Wright Bi-Fold Co, we specialise in the supply and fit of the most incredible aluminium bi-fold doors throughout Putney. Our customer service is excellent, and you can be assured of superb installation of exceptional folding doors to your Putney home.
Our aluminium bi-fold doors are crafted to your exact specifications, giving you a stylish and bespoke home improvement. Read our guide to aluminium bi-fold doors in Putney to discover the features and benefits that you can expect from Wright Bi-Fold Co home improvements.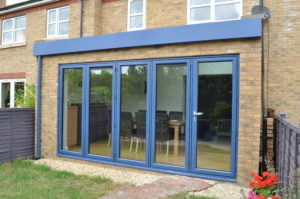 Protect Your Putney Home with Aluminium Bi-Fold Doors
Aluminium bi-fold doors are undeniably stylish, however, they are also superb for protecting your home from all sorts of unwanted elements.
Let's start with security. Your home will be safe and secure with our aluminium bi-fold doors. The aluminium frame is naturally robust and durable, and comes with inherent strength due to the qualities of aluminium itself. This makes it virtually unbreakable.
In addition to this, our aluminium bi-fold doors are fitted with the very latest multi-point locking systems on the market, ensuring your home and family are thoroughly protected. You can be confident that potential intruders will be deterred by our impressively secure aluminium bi-fold doors!
In addition to this, these stunning doors also protect you from the elements. They are constructed with EDPM rubber gaskets and weather brushes to enhance the protection they offer. No matter how harsh the winter storms are this year, you can be safe in the knowledge that torrential rain, gale force winds and bitter ice will be unable to damage your doors or leak into your home.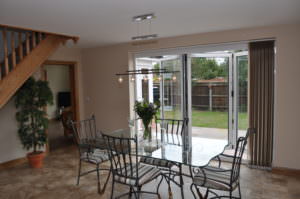 Energy Efficient Aluminium Bi-Fold Doors in Putney
Aside from the superior weather protection, our aluminium bi-fold doors will also protect your home from the cold. They are fitted with energy efficient glazing to maximise the thermal performance that these sliding doors offer. Every aspect is considered, and our aluminium sliding doors benefit from the latest innovations in double glazing to achieve incredible thermal qualities.
You can count on a warmer home for longer with our aluminium doors, which could save you money on your energy bills, as you will need to use less heating. These stunning sliding doors are more than capable of achieving the stringent energy performance standards set by Building Regulations too, keeping your property's performance in line with recommended guidelines.
Accessible Entrances – Bi-Fold Doors for All Homeowners in Putney
Creating an accessible entrance to your garden is a central requirement for many people, particularly families with young children, wheelchair users and those with mobility difficulties.
With our aluminium bi-fold doors, you can expect complete accessibility as standard. Our doors come with a standard threshold of just 31mm, however, you can also opt for a low threshold with ramps of a tiny 15mm, making your garden completely accessible.
With our aluminium bi-fold doors, every detail meets the highest standards. Our doors are easy to open, with a smooth stainless steel roller system. This great feature is crafted from high-grade stainless steel to ensure long-term performance from your home improvements.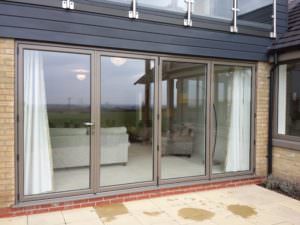 Stylish Aluminium Bi-Fold Doors to Complement Your Putney Home
Aluminium bi-fold doors are completely beautiful Putney home improvements, and they are bespoke to you!
Choose from a wonderful range of practical options, from size of door to make the most of the space you have, to fold configuration. Any area of your home could reach its full potential with the installation of an aluminium bi-fold door. All of this is then tailored to reflect your personality and tastes. Perhaps you like bright and cheerful colours, or maybe you prefer traditional colours that complement your brickwork, we can help! Whether you are looking to create a statement feature, or a wall of glass that blends in neatly, we have the perfect shade for your doors.
The super slim profiles come in a range of finishes, so that your every requirement is met! You can even choose from a selection of handles to finish your aluminium bi-fold doors perfectly.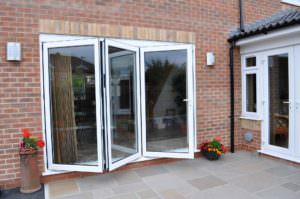 Aluminium Bi-Fold Doors Prices in Putney
Aluminium bi-fold doors prices for your Putney home improvements are highly cost effective. The installation is constructed to the very highest standards from the best materials, ensuring, that with minimal maintenance, these doors will give incredible performance year after year.
Find our great aluminium bi-fold door prices through our online door designer. In just a matter of minutes, you could create your dream sliding doors, and get a tailored guide price. We also have a lovely team on hand who can guide you through your options and help you to find the perfect aluminium bi-fold doors to match your tastes and your budget. Get in touch today.